Business Editors/High-Tech Writers
NEW YORK and SAN MATEO, Calif.--(BUSINESS WIRE)--Feb. 11, 2000
When women's thoughts turn to romance, sex and relationships, they increasingly turn to the Web as a prime source of advice, tips and fantasy.
As they do, Women.com Networks (Nasdaq:WOMN) (www.women.com) has become a prime beneficiary, as its blend of original and branded content makes it the Web's premier destination for women.
Women.com combines unique original programming with strong exclusive partnerships to provide superlative content in sex, relationships and romance. This strong content drives the company's traffic and creates tremendous efficiencies for Women.com's marketing strategy.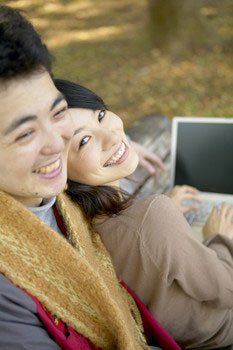 Web-Enhanced Love
In just 48 hours, over 3,000 Women.com visitors responded to questions pertaining to Love on the Web --
-- One hundred percent said they email their loved interest once a
day.
-- Fifty percent said that the Web gets as much or MORE of their
time as their loved one.
-- Sixty-seven percent said they received an intimate love letter
via the Web.
-- Nearly half said that they plan dates online.
-- Almost 40 percent said that they went on a date with someone they
met online.
-- Twenty-three percent said they have used an online dating
service.
-- Twenty-three percent said they purchased their lover a gift on
the Web.
-- Eight percent said that they met their husband via the Web.
For the woman looking for depth of information about relationships and sex, the Women.com network provides superior content from two of its most popular magazine sites, Cosmopolitan and Redbook. For women in search of romance, Women.com will soon launch eHarlequin.com, the Web site for the powerful Harlequin brand of romance novels.
All three sites complement the variety of original content produced by Women.com's Sex &Romance channel editorial team.
&uot;New women are rapidly coming to the Web, and are looking for rich information that spans their interests. Women.com is their source, whether they are thinking about the boardroom or the bedroom,&uot; said Ellen Pack, senior vice president and founder, Women.com.
Women.com's leadership is driving its increase in traffic. For example, since the launch of its Sex &Romance channel in September 1999, the channel has generated nearly 30 million page views and has attracted 3.9 million visitors. In addition, traffic to Women.com's Cosmopolitan magazine site has witnessed a 116 percent increase in page views since its re-launch in September 1999.
In addition to rewarding Women.com with great traffic growth, the company's strong sex and relationships franchise is a key element in its aggressive content syndication strategy. Content from Women.com feeds into AOL's &uot;Love at AOL,&uot; and is a cornerstone of the company's newly announced exclusive partnership with Alta Vista. Women.com's content is also part of programming created for MSN's Women Central.
&uot;Women.com's breadth of content is key to our success in serving women,&uot; said Pack. &uot;We view sex and relationships as a key component of this coverage and are pleased to have the Web's strongest romance franchise.&uot;
About Women.com Networks, Inc.
Women.com (www.women.com) is a leading Internet network dedicated to women, featuring award-winning original programming, personalized services, community and online shopping. A comprehensive network for women, Women.com is comprised of more than 100,000 pages of programming organized into 19 topical channels, including Fashion &Beauty; Horoscopes; Food; Sex &Romance; Health; Career &Money; Pregnancy; and Home.
Women.com also offers extensive membership services and benefits, including personalized content, personal home pages, e-mail, and access to community forums and clubs.
In addition, the company enjoys strategic relationships with The Hearst Corp. and Rodale, enabling Women.com to offer an online newsstand featuring content from 12 of the world's leading women's magazines, including Cosmopolitan, Good Housekeeping, Prevention and Redbook.