Whatever call it, Kim's romantic take on is contagious. Six years ago, she and opened a small shop in Minneapolis called Paris Flea Market, selling thrift-store furniture, vintage clothes, and gifts. The look was so popular they opened a second store, Belle Epoque, with a more international, upscale feel.
Though the partners split on friendly terms, Belle Epoque continues to grow. Kim recently rented an apartment in Los Angeles, with dreams of sharing her decorating philosophy with trend-savvy West Coasters.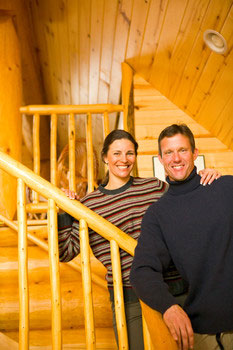 That philosophy might be summed up in a four-step process:
* Pick a palette. Don't be shy about it. Kim likes Chinese red in the kitchen, Tiffany box blue in the bathroom, fuchsia in the hallway. Maybe you always longed for a lilac living room. Go for it. It's only paint.
* Shop obsessively but wisely. Unlike paint, furniture mistakes aren't easily rectified. Don't commit unless you are absolutely in love.
* Choose one drop-dead piece and build your look around it. For Kim, it was the Liberace-style living room chairs. For you, perhaps a killer rug.
* Make lots of pillows. Recently, she found a 1970s silk skirt at an L.A. consignment shop. "It was just hideous. But the colors popped, and it was $10. After I cut it open, I got a yard of fabric."
Kim's home, an outwardly ordinary cottage she shares with husband Steve Pettit, is her design laboratory. A management consultant, Steve is Eddie Albert to her Eva Gabor. "One of his vows to me when we got married was that he would live with leopard carpeting and purple walls, as long as he had one corner of the house to himself," Kim says. He got his wish--a comfortable chair in his own private den. "I can be very small here," he jokes. "It's out of the way."
A wise policy, considering Kim often does several things at once, like talking on the cell phone while eating a hamburger while sketching an idea for a lampshade.
Even Kim's furnishings do double duty. Beaded purses become vases by tucking jars inside, or purses might serve as wall hangings. The sari fabric at her dining room windows was to have been part of her wedding dress, but the material was too pretty to cut.
Of course, the danger with this type of eclectic decorating is going over the top, creating rooms that feel more like stage sets than places where real people eat, sleep, and watch TV. Trust your eye and aim for a balance, Kim says. If you use a strong color on the walls, go easy on accessories.
While some might call her style excessively flamboyant, Kim likes to think of herself as a Midwestern gal with flare.
"I had a friend look at me one day and he's like, `Do you ever wear anything normal?' My first reaction was to defend myself and be like, `Yes.' And then I stopped and thought about it. Why would anyone want to be normal?"
Bringing it home
If you don't have the time or cash to jet over to Paris this weekend, you can find elements of Kim's French Glam style as close as a shopping mall, catalog, or the World Wide Web. Also haunt Asian and Indian markets for exotic fabrics and accessories.
1. A crystal chandelier is the ultimate in girly glamour. From Ballard Designs (800/367-2810 or www.ballarddesigns.com).
2. Sari silks add a bohemian touch, remade as curtains and pillows. Both by MU/H from Worldware (415/487-9030).
3. What better way to express your love for the City of Lights? Eiffel Tower lamp from Target (800/800-8800).
4. Curvy, neutral-colored velvet upholstery is a subtle backdrop for flashier accessories. Chair from Retrospect (800/301-9720).
To learn more about this style:
* Herbert J. Ypma's Paris Flea Market tours some of the city's sumptuous interiors. But while a catacomb under the Palais Royal may not be your idea of home-sweet-home, the French passion for "found objects" will ring a bell with junk-store junkies.
* In The Paris Apartment: Romantic Decor on a Flea-Market Budget, Claudia Strasser dispels the notion of a single French style. Every abode begins with a personal fantasy, she says, be it a Moorish palace, Left Bank cabaret, or Victorian parlor.